Welcome to the Pemberville Free Fair Website
2019 Pemberville Free Fair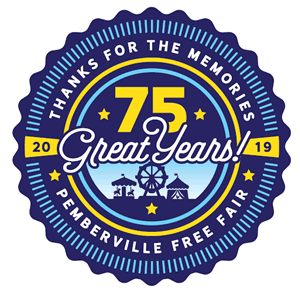 August 14-17, 2019
Pemberville Free Fair ~ Grand Parade Results

The Pemberville Free Fair is proud to list this year's winners from the Grand Parade. We take this opportunity to thank all who participated! All of the floats, bands, marching units, antique vehicles, shrine units, etc. make our parade GREAT! Thanks again, we hope to see you next year, Saturday, August 22, 2020 for yet another great parade.

Floats –
Youth Groups
Best Float Overall ($500.00 prize) Tontogany 4-Leaf Clovers
2nd Portage Valley 4-H
3rd Challenger Baseball Little League

Organizations
1st Pemberville-Freedom Area Historical Society
2nd Pemberville Public Library

Churches
1st Bethlehem Lutheran
2nd Church of the Good Shepherd

Commercial
1st Wood Lane (Work Leads to Independence)

Marching Units -
1st Heidi's Twirlers
2nd Perrysburg Twirling Sophisticates

*Checks will be mailed to each of these groups/organizations for their participation in this year's Grand Parade.

Participating Shrine Units –
Zenobia Shrine Mystics
Zenobia Shrine Jeepsters
Zenobia Lancers
Zenobia Hillbillies
Zenobia Temple Guard
Zenobia Roadrunners
Zenobia Shrine Clowns
Pemberville Masonic Lodge #516
*The Pemberville Fair Board will be making a donation to each of these Shrine/Masonic units for their participation in this year's Grand Parade.

Participating Bands -
Eastwood
Holgate
Lake
Elmwood
Gibsonburg
Genoa
Springfield
Otsego
Northwood
Anthony Wayne
*The Pemberville Fair Board will compensate each of these bands for their participation in this year's Grand Parade.


---

Wow! It's hard to believe that it's almost fair time here in Pemberville. This year is going to be extra special as we celebrate 75 Great Years of the Pemberville Free Fair! Stop and think how many volunteers have helped with the fair over the years … how many flower arrangements have been made for the Annual Flower Show, how many pigs have been caught as a part of the Swine Scramble, how many youth have participated in the Kiddie Parade, how many acts have performed on the main stage and how many elephant ears have been consumed at the Pemberville Free Fair. This four day family fun event that we call the Pemberville Free Fair has a rich history dating back to its inception in 1935. After several years, it was discontinued, until its rebirth in 1948. The fair has remained a strong family tradition, thanks to the many volunteers and sponsors who work hard each year to bring us this summer spectacular. The cover of this year's fair book features some fun photos of past fairs, the following pages are filled with all of this year's happenings, along with all of our advertisers/sponsors. We hope that you will support our advertisers and take time to thank our sponsors and volunteers who make it all happen. We want to extend a special invite to each and every one of you as this year's festivities will begin with a fabulous Opening Ceremony on Wednesday evening and conclude with a special Closing Ceremony on Saturday night. While you are in town, take time to view this year's History/Memorabilia display commemorating the fair's rich heritage.

Mark your calendars, August 14th - 17th 2019. We hope to see you here in Pemberville, as we celebrate 75 Great Years! By the way, Thanks for the Memories!

Randy Jennings
President, Pemberville Free Fair, Inc.
---
For those interested in the commercial tent during this year's fair, the information is posted on the Commercial Tent page here.

The Pemberville Free Fair believes all information on this website is true and accurate. However, due to circumstances beyond the control of the fair board, information can change before or during the event. Any information announced at the time of the event will supersede any digital or printed information.
---
Volunteers are always welcome and needed for the fair. The fair board meets twice per month. If you or someone you know would be interested in volunteering with the Pemberville Free Fair, please contact any of the fair board members listed here.
---
If you need to contact us, you may do so via email at pemfreefair@gmail.com or check out the list of Fair Chairpersons by clicking here.
---
Mark your calendars now for the 2020 Pemberville Free Fair! It will be held August 19 -August 22, 2020!
Looking ahead…
The Parade Committee is already working on the 2020 Grand Parade and seeking trombone players (76 to be exact) to lead the 76th Pemberville Free Fair Grand Parade on Saturday, August 22, 2020. Interested persons should contact 419-287-4305. Participants would need to learn the selected music and attend the scheduled practice. If you know of someone that might be interested, please contact them on behalf of the committee. Thanks!