Kayden Firsdon
This fall will be the beginning of Kayden's senior year at Eastwood High School. Her proud parents are Brett & Monica Firsdon. Eastwood sports are a large part of life for Kayden. She participates in both soccer and track & field. Soccer continues outside of school with time spent playing for The Greater Toledo Football Club. Not only has soccer taken her outside of the country to play in the past, more recently it has allowed her to travel to Arizona to play in the National League for club soccer. When her time at Eastwood comes to a close, Kayden plans on playing collegiate soccer while pursing a career in Physical Therapy. Kayden's future is certainly bright!
Grace Kingery
Grace is her senior year at Eastwood High School and is the daughter of Jill Contris-Kingery and Chad Kingery. Boredom is foreign to Grace as she has kept busy with many activities and memberships. Her participations have included Eastwood soccer, softball, basketball and the musical. Eastwood FFA and Student Council have also provided her with valuable experiences. Outside of school, Grace also enjoys her membership in 4-H. s an avid equestrian, she also finds time to offer beginning riding lessons. Grace's next adventure is college where she plans on playing soccer and pursuing a career in Veterinary Medicine. Good luck Grace!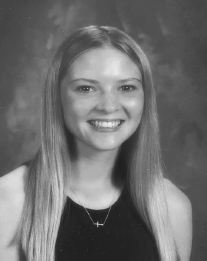 Jessyca Smith
Jessyca will soon begin her senior year at Eastwood High School. She is the daughter of Daniel & Abby Smith. Softball is her passion! She not only plays ball for Eastwood, she also plays for Finesse Softball. This sport has given her the opportunity to travel and play ball in Mexico. With the support of her family, nearly every weekend has found her playing in another state. Marine Biology at Eastwood has also been worked into her schedule. When she is not traveling or playing softball, she spends time working at the daycare at her church and painting gifts for her family. Jessyca will not be stopped after graduation. A college will be chosen, she will play ball and pursue a career in Physical Therapy. She is another goal oriented young lady who has a plan! Good luck Jessyca!
Pemberville Free Fair Royalty Contest Rules
1. Contestant MUST be an incoming freshman or older and a resident in the Eastwood School District.
2. Males and females may participate.
3. Deadline to show intent to participate will be May 15th prior to the fair.
4. Tickets being dispensed will be counted and signed for at the time they are dispersed.
5. Tickets will be dispersed to only the contestant or a parent/guardian.
6. Ticket count attendance is mandatory! Ticket counts are held monthly.
7. All tickets sold MUST be turned in at each ticket count. Unsold tickets must also be brought to ticket count for verification purposes.
8. Each contestant is financially responsible for every ticket dispersed. Lost or unaccounted for tickets will be charged to the contestant.
9. The final ticket count will be held on the Monday evening prior to the start of the fair.
10. Commission will be paid as determined by the Pemberville Fair Board.
11. Commission checks will be presented at the recognition ceremony on Wednesday of the fair.
12. DRESS CODE: As a royalty contestant, you are representing yourself and the Pemberville Free Fair. A modest appearance is required when selling tickets and attending the fair. If you need clarification, please see Kara or Kate.
13. Each contestant will be required to sell tickets for a period of one hour during the fair. Times will be scheduled at the final ticket count.
14. Participation in the Saturday parade is MANDATORY and there will be ZERO TOLERANCE FOR CELL PHONE USAGE DURING THE PARADE.
15. The winner is required to pull the winning 50/50 raffle ticket on Saturday evening at 11:00 p.m.